I've been wanting to share some thoughts about my favorite musicals on this blog for a long time, so I've finally started doing it. I started out discussing my all-time top two musicals–Les Mis and Cats–but they're far from the only ones I love. After that, my ranking is a lot wobblier, but these five are definitely ones that I love and that mean a lot to me.

Newsies
How I've Experienced it: I found Newsies through the Broadway soundtrack, then watched the original 1992 movie with Christian Bale, and then saw the 2017 proshot.
It's about the newsboy strike of 1899
Why is it so good? The dancing is mindbogglingly fantastic. I have never seen anyone dance the way the newsies dance. I love the choreography so much. It's unlike anything I've ever seen, part ballet, part acro, total awesomeness. That said, I loved the soundtrack even before I saw the dancing. I have forced so many people to watch this show that it's ridiculous, and I really, really hope I get to see it live someday because I just love it that much. It's one of the seven soundtracks that I have on my phone, and considering how much I love every musical, that should tell you a little something about how much I adore it.* Also, the song about the writing process is just too accurate.
My recommendation (if you can't see it live): Watch the proshot. Don't bother with the original movie. I will never understand the thought process behind casting a musical with people who can't sing. When the movie got retooled for Broadway, they replaced the bad singers with great ones (special shoutout to Jeremy Jordan and the infinitely charming Andrew Keenan Bolger), added spectacular dancers, and then rounded out the secondary cast so that they have actual personalities.
My favorite songs: "The World Will Know;" "Santa Fe (Prologue);" and "Watch What Happens"
---
The Book of Mormon
How I've experienced it: I saw it live and own the OBC recording.*
It's about: The Book of Mormon is a hilarious satire of organized religion and follows two Mormon boys on their mission trip to Africa.
Why is it so good? The main thing is that it's side-splittingly hilarious. The lyrics and the choreography are ridiculous in the best possible way, and even though the show lambasts pretty much everything, it has a number of beautiful, moral takeaways at its heart. I write reviews of every show I see live for personal/family use, and BoM inspired me to write what essentially amounted to an essay about the show's intersections of religion with LGBTQ+ and race issues. Rarely are there shows that are so immediately delightful and so rewarding for deeper thought than The Book of Mormon. I've seen a lot of shows, but I don't think I've ever heard an audience laugh harder than they did at this one. I laughed so hard I cried.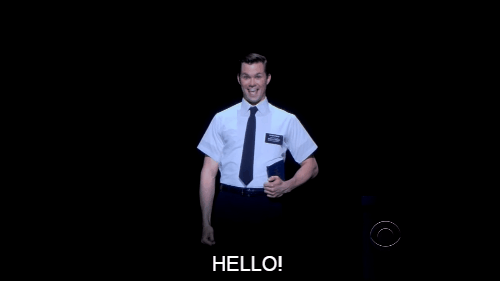 My recommendation (if you can't see it live): The songs are a hoot even without the visuals, and the cast of BoM has performed at the Tony Awards multiple times so there are good recordings of "Hello" and "I Believe" on YouTube. Sadly, only one of those performances has original star Andrew Rannells, but the replacement is also excellent. I really hope someone professionally records this one someday, because it's heartbreaking to me that there's no good-quality recording of the pink-vested tap break in "Turn it Off" or the ridiculous dancing in "Two by Two."
My favorite songs: "Turn it Off;" "You and Me (But Mostly Me);" and "All-American Prophet"
---
Into the Woods
How I've Experienced it: I grew up watching the 1991 proshot with Bernadette Peters. I've seen some very good high school and college productions, and—of course—saw the 2014 movie.
It's about: It's a sort of fairy tale satire wherein some of the best known fairy tales are combined into a single story and returned to their dark roots.
Why is it so good? I love metafiction and metahumor. Love them. Into the Woods uses them in spades, and the clever combinations of familiar stories is intensely creative and darkly humorous. I've seen Into the Woods dozens of times over the years, and every time I do something else sticks out to me. The melodies are gorgeous, and there are some absolutely hysterically funny moments mixed into the drama. As an added bonus, there are some profound observations about life in there as well.
My recommendation (if you can't see it live): Watch the proshot. The movie is good, but cuts for time leave out some of the best bits of the musical (like the narrator!) Also, you can't beat actors like Bernadette Peters and Chip Zien.
My favorite songs: "Agony;" "Children Will Listen;" and "Giants in the Sky"
---
The Phantom of the Opera
How I've Experienced it: I can't remember a time before I knew PotO, but I'm assuming my first experience was the 2004 movie. I've seen it onstage multiple times, watched the anniversary performance at the Royal Albert Hall, and have read the original novel.
It's about a mysterious masked man living in the basement of an opera house who wreaks havoc because of his obsession with a young soprano who sings there.
Why is it so good? The songs are fantastic. Some of them are beautiful, and others are delightfully silly. There is not a single weak spot in the entire score, and the visuals are great and absolutely iconic. Chances are that, even if you don't know anything about musical theatre, you could still recognize the Phantom of the Opera's mask.
My recommendation (if you can't see it live): Watch the version at the Royal Albert Hall. Ramin Karimloo and Sierra Boggess are amongst the most popular Phantom stars for a reason, and Hadley Frasier is probably the strongest Raoul I've ever seen.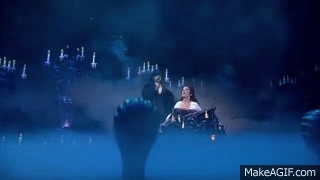 My favorite songs: "Wishing You Were Somehow Here Again;" "Masquerade;" and "Prima Donna"
---
The Spongebob Musical
How I've experienced it: I saw this live and then bought the proshot that aired on Nickelodeon.
It's about: Based on the cartoon, the musical is about Spongebob, an undervalued fry cook, who steps up to save the day when a volcanic eruption threatens his town.
Why is it so good? I will be the first to admit that I did not expect to love Spongebob. Cartoons generally creep me out and I find the animation style for Spongebob Squarepants to be even creepier than the average. However, the musical is surprisingly delightful. Lots of powerhouse songwriters united to make it, there are some incredibly creative visual effects, and the whole thing is unabashedly silly and optimistic. Perhaps the most unexpected thing about this show is how relevant and nuanced it is. It manages to depict a society that descends into chaos and xenophobia at first sight of a crisis… without losing any optimism. It parallels real-world problems while celebrating simple virtues like hanging out with a best friend and marching to the beat of your own drum clarinet. Also, the actor playing Spongebob sings upside down and does backbends and stuff.
My recommendation (if you can't see it live): The proshot is wonderful! Ethan Slater, who plays Spongebob, is absolutely adorable (and bizarrely athletic! I seriously did not expect his level of physicality even after being impressed by the guy I saw playing the role live). If you haven't already watched this one, you definitely should because it is even more charming and encouraging while under home isolation than it is at any other time.
My favorite songs: "Hero is My Middle Name;" "Just a Simple Sponge;" and "BFF"
---
In the comments, talk to me about your favorite musicals.. and tell me what you think of these ones!
*On the off chance you're wondering, the seven cast recordings I own are Cats (original cast), Les Mis (10th anniversary cast), Mamma Mia! (original cast), Hamilton (OBC), The Book of Mormon (OBC), Newsies (OBC), and Dear Evan Hansen (OBC)
---