It's Musical Monday again! Last week I reviewed Cats 2019, but this week I'm back to blabbering about five musicals that I adore! As always, if there's a show you love, tell me about in the comments! And let me know what you think about these ones!
Mamma Mia!
How I've experienced it: I'm in love with the movie (and it's sequel) and I got to see the show once live, performed by a community theatre. I own the original cast recording and listen to it obsessively.
It's about: This jukebox musical—based on songs from ABBA—is about a young woman who wants her father to walk her down the aisle at her wedding. The only problem is that she doesn't know who her father is! So she does the only natural thing: she finds her mother's old diary and invites the three men her mother slept with the summer she was conceived.
Why is it so good? Try to listen to any song from Mamma Mia! without dancing. You can't. Everything about this show is heightened and ridiculous and because of that it is a total blast from start to finish. This is the best jukebox musical in existence. Jukebox musicals were invented for Mamma Mia!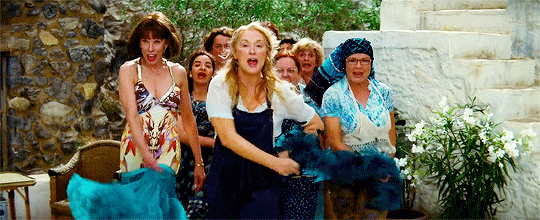 My recommendation (if you can't see it live): The movie is a million times better than the blasphemous 54% on Rotten Tomatoes would have you believe. It is delightful, and so is the sequel.
My favorite songs: "Chiquitita;" "Our Last Summer;" and "Honey, Honey"
---
Falsettos
How I've Experienced it: I've seen the professionally filmed 2016 revival cast version.
It's about a gay man trying desperately to adjust his life to accommodate his ex-wife, son, and new lover.
Why is it so good? I'm a sucker for anything that deconstructs toxic masculinity. The character development, particularly for Marvin, is remarkable. It's rare that a main character starts out being so despicable but ends up being so heartbreaking. Falsettos is also special because of its portrayal of a nontraditional family. A show with two (mostly) happy queer couples is very affirming, and even though it ends tragically, the lead up and genuine emotion more than make up for it. The songs are weird and weirdly catchy; I heard the cast recording well before I saw the recording, and was addicted to the songs before I ever saw anyone sing them.
My recommendation (if you can't see it live): Watch the professionally filmed 2016 revival cast version! The musical itself is great, but what makes it even better is that it stars three of my all-time favorite Broadway performers: Andrew Rannells, Christian Borle, and Tracie Thoms.
My favorite songs: "This Had Better Come to a Stop;" "Everyone Hates His Parents;" and "You Gotta Die Sometime"
---
Wicked
How I've experienced it: I got to see it onstage.
It's about the origin story of The Wizard of Oz's Wicked Witch of the West, who is not the evil villain you thought, but rather a poor girl from Munchkinland who was born green.
Why is it so good? This was one of the first shows I saw live and the first one where I didn't know the plot beforehand, which gave it an extra shimmer. It's a very creative retelling, and Elphaba and Glinda are a great pair. I tried to read the book it was based off after loving the show, but barely made it halfway through, which tells me that the people who adapted it are absolute geniuses. Glinda and Elphaba are a great pair, and reframing the Oz story from the "villain's" point of view was a risky choice that paid off in a big way.
My recommendation (if you can't see it live): Supposedly there's going to be a movie sometime in the next few years, but until then the OBC recording is great (Kristin Chenoweth and Idina Menzel are household names for a reason; even people who aren't huge Broadway fans know them).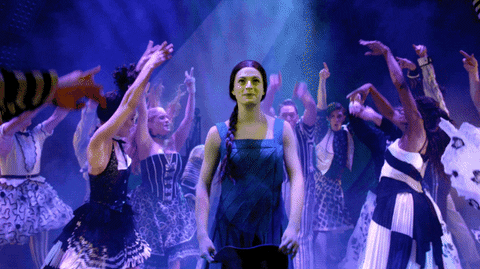 My favorite songs: "Popular;" "No Good Deed;" and "Defying Gravity"
---
Jesus Christ Superstar
How I've experienced it: JCS has been filmed a ton of times. I've seen the 2000 movie (the one with Jerome Pradon as Judas), the 2012 Live Arena Tour version (Tim Minchin), and 2018's Jesus Christ Superstar Live! (Brandon Victor Dixon). I know there's also a version from 1973, but I haven't seen it.
It's about the betrayal and crucifixion of Jesus Christ, told from the perspective of Judas Iscariot.
Why is it so good? It adds nuance and complexity to the Bible story that everyone has heard a million times. Jesus and Judas are both three-dimensional characters whose humanity is painfully tangible. A rock musical isn't the medium you'd expect for a Bible story, but it absolutely works. Like Wicked, this is a familiar story told through an unexpected lens, and it's all the better for it.
My recommendation (if you can't see it live): Every version of this musical is good, but the whole thing hinges on Judas, so to pick your version I'd recommend listening to each version of "Heaven on their Minds" and picking whose voice you prefer and going from there. I like every version I've seen, but all for different reasons.
My favorite songs: "Heaven on their Minds;" "This Jesus Must Die;" and "Could We Start Again Please"
---
Chicago
How I've experienced it: Aside from listening to various cast recordings, I've only seen the movie.
It's about: A woman determined to become a star murders her lover and turns a prison sentence and the ensuing media coverage into her big break.
Why is it so good? I was initially hesitant. When I first heard "All that Jazz," I didn't care for it. When I actually watched it, though, I was won over completely. The story, when stripped to its core, is actually dark and pessimistic, but the juxtaposition between the content and the tone is amazing. The two lead characters are despicable, but watching them dance their way through their troubles is an absolute blast. This is one of those shows where, even if you've never seen it, you'll recognize most of the songs because they're all extremely catchy and have been parodied many times. I was surprised, when I first watched the movie, how many of the songs I already knew.
My recommendation (if you can't see it live): The movie is great.
My favorite songs: "Razzle Dazzle;" "When You're Good to Mama;" and "Mr. Cellophane"
---
Are there any shows that I should be listening to? What do you think of these ones?
---