Memphis
How I've experienced it: There's a proshot with the original cast!
Why is it so good? I honestly can't believe that I haven't heard more people talking about this show, because it's absolutely amazing. It was not on my radar even a little bit, but I'd subscribed to BroadwayHD for a couple of months and had watched pretty much all the musicals, but I decided to look through them one more time to see if there was anything else that struck me before canceling and saw that there was a Tony-winning show that I'd only barely heard of. I figured… it won Best Musical, so it must be good. It so was. The music in this show is stunning, and the cast in the proshot have absolutely incredible voices, so much so that I'm retroactively upset that neither Chad Kimbell nor Motego Glover won the Tonys they were up for. The show centers around civil rights and racism and takes a slightly more nuanced approach than musicals like Hairspray. It's based loosely on a real man and tells the story of a white radio DJ and a black nightclub singer who come together to play Black music right at the center of the radio dial. My mom, sister, and I actually ended up watching Memphis twice in three days because the music is just that good.
My recommendation (if you can't see it live): The proshot is absolutely spectacular. Watch it, and then tell other people to watch it. I don't know why people are sleeping on this one. Why was it so hard to find gifs for it? Why is it not as popular as other semi-recent Tony winners? It should be!
My favorite songs: "She's My Sister," "Underground," and "Memphis Lives in Me"
---
Miss Saigon
How I've experienced it: I had long been interested in seeing Miss Saigon since I love Les Mis. I got to see a touring production a few months ago and it was good but I wasn't blown away. There were some sound issues during the first half, so I didn't quite catch everything, so I watched the proshot with Eva Noblezada so that I could hear the bits I'd missed and retroactively I like the show a lot more.
Why is it so good? I mean, the Les Mis team did Miss Saigon. This one doesn't get to me in the way that Les Mis does (but, really, what does?), but it tackles some of the same themes and has some lovely songs. It has a dark humor to it at times ("The American Dream" comes particularly to mind, but really everything the Engineer does is darkly humorous) and is at least partially responsible for launching Lea Salonga, which is a plus. Also, the staging for the scene where Chris leaves Saigon is super cool. There's a helicopter, and Miss Saigon is justifiably famous for it, because it really pushes what I'd expect to be possible onstage.
My recommendation (if you can't see it live): I very much enjoyed the proshot.
My favorite songs: "I Still Believe," "Bui Doi," and "If You Want to Die in Bed"
---
The Last Five Years
How I've experienced it: I watched the film with Jeremy Jordan and Anna Kendrick, then went back and listened to the original cast recording and the revival with Betsy Wolfe.
Why is it good? I'm a big fan of narrative creativity, and the way The Last Five Years is told—Cathy's POV is told from back to front while Jamie's is traditionally chronological, and they meet only once, in the very center of the show—makes it unlike any other show I've seen. It subverts the expectation for a happily ever after by spoiling the painful breakup in its first moments, so the viewers are caught in the uncomfortable position of rooting for a relationship that they know will end badly. The score is varied and interesting, and there's something slightly addictive about it. I didn't know much of the music to The Last Five Years before watching the movie (I've heard "Still Hurting" and "Shiksa Goddess" through Spotify, but that's it) but I felt compelled to listen to other recordings almost immediately afterward.
My recommendation (if you can't see it live): The movie is very good. Like most musical fans, I love Jeremy Jordan's voice. He's the reason I sought this movie out. Unlike a lot of movie fans, I'm not a huge Anna Kendrick fan. I like her fine, but I don't think she has a strong enough voice to be Hollywood's go-to girl for musicals. Jamie and Cathy are really the only characters of substance in this show (I believe that they're the only characters period in the stage show, but I can't swear to that), which means they both have to be played by killer vocalists, and unfortunately in this case I think there's a slight imbalance because—at least in my opinion—Jordan's voice is much stronger. The movie is still excellent, but it does feel a little uneven in places.
My favorite songs: "Moving Too Fast," "Goodbye Until Tomorrow/I Could Never Rescue You," and "I Can Do Better Than That"
---
Gypsy
How I've experienced it: I've listened to various cast recordings and I watched the movie with Bette Middler.
Why is it so good? The characters are so complex! You can see where everyone is coming from, and even though some characters are fairly consistently in the wrong, it's easy to empathize with all of them. It's obvious why Rose is such a popular role for big-name stars: she's a great character that requires vivacity, charisma, and a solid voice and there isn't a plethora of roles like that for older women.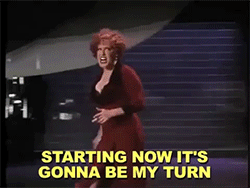 My recommendation (if you can't see it live): The movie is absolutely worth watching. Apparently there are two other versions out there, one with Natalie Wood and one with Imelda Staunton, but I have not seen either.
My favorite songs: "Some People;" "Rose's Turn;" "If Momma Was Married"
---
Peter Pan
How I've experienced it: I've seen the 2000 version with Cathy Rigby and Peter Pan Live! with Allison Williams.
Why is it good? It's just a lot of fun. Cathy Rigby is a gymnast, and her flying is really, really cool. Peter walks a fine line between charming youth and belligerence, which is truer to the original book than the Disney version. Captain Hook's interludes, in which he calls out a musical type for his pirates to provide while he monologues, are consistently funny, and some of the practical effects are really cool. Peter Pan in general (so, not just the musical) doesn't do a great job with its Indian characters but at least in this version Tiger Lily is graceful and heroic. That one song (you know the one) is not great, but the show overall is still very fun.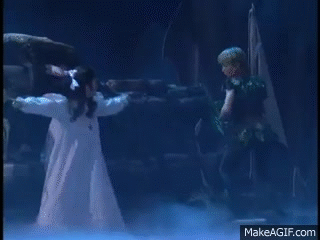 My recommendation (if you can't see it live): the 2000 version with Cathy Rigby is very good, but I haven't seen the Mary Martin version, which I know is a classic. I personally enjoyed Peter Pan Live! even though I know it's not to everyone's taste. Christopher Walken definitely sleepwalked through it, which gave it a campy humor… but Christian Borle (as Smee) and Lost Boys were very good.
My favorite songs: "Hook's Tango," "I'm Flying," and "Pirate Song"
---
My next few Musical Mondays are probably going to feature cast recordings of shows that I have not seen. If you have any recommendations for me, let me know!
I am probably also going to knock Musical Mondays to twice a month/every other Monday. That may or may not be true. We'll see.
---