I haven't written about musicals for more than a month because I needed as much writing time as possible for NaNoWriMo and I figured this was the easiest thing to suspend. I didn't even totally succeed, though, because The Shows Must Go On aired The Wind in the Willows and I absolutely adored it and had to write about it ASAP. That show is so precious. I knew it had to be the next show I posted about, so I decide to force a theme that worked for it. So the theme for these three musicals is… classic children's literature.
The Wind in the Willows
How I've experienced it: The Shows Must Go On, the YouTube channel started by Andrew Lloyd Webber and that has been a bright spot in an otherwise deeply stressful year, aired the proshot that was filmed on the West End in 2017. It was only up for 48 hours, but I watched it twice.
It's about: The Wind in the Willows is based on the children's book by Kenneth Graham. When their pal Mr. Toad becomes a menace to society because of his compulsion to recklessly drive increasingly fast vehicles, the friends—a Mole, a Water Rat, and a Badger—try to stage an intervention.
Are there any good YouTube-available clips? Yes! The Shows Must Go On posted my favorite song, "We're Taking Over The Hall," along with "The Amazing Mr. Toad." Those are actual clips from the proshot, but you can also watch Craig Mather and Simon Lipkin singing "Messing About in a Boat" at West End Live in 2017.
Why is it so good? I'll be honest: I was not super optimistic about this one. I've never read the book, so I didn't know anything about the story, and I knew that The Shows Must Go On was billing it as a children's musical. Sometimes media intended for children is too juvenile for me, and the short preview for The Wind in the Willows didn't exactly sell me. Still, I was going to watch it regardless because it was a free musical and—I don't know if you know this about me—I love musicals. So with modest expectations, I sat down to watch. And this musical is absolutely adorable. It's both very sweetly sincere and incredibly funny. My sister probably summed it up best when she said that The Wind in the Willows "did not have to go as hard as it did." It could have been a perfectly satisfactory with a couple of mildly catchy tunes. Nothing against kids, but they don't have the most sophisticated musical tastes. But the score actually has a really wide range. There are legit bangers that'll get stuck n your head for days; ridiculous, uptempo numbers; slower, sincerely motivational numbers; sweet, lightly romanticized moments; and pretty, expositional interludes. Sometimes, when stories are very sincere they get too bogged down in sap. This one doesn't. It's actually laugh-out-loud funny at times, and it's extremely high-energy. I don't know how Neil McDermott and Rufus Hound (the actors playing Chief Weasel and Mr. Toad, respectively) managed to stay that hyped up and animated for so long. And the over-the-top silliness doesn't take away from the core themes of friendship and community. Also, Ratty and Mole are the cutest and I dare you to watch this and not wrap "poop poop" into your regular lexicon.
Side note: it's a crime how little of this wonderful show has been gif'd. There's a proshot! Where are the gifers? Y'all are sleeping on The Wind and the Willows (and Memphis).
My recommendation (if you can't see it live): Watch the proshot! It's so worth it! It's available on BroadwayHD.
My favorite songs: Ugh. I hate narrowing this down to three when I love the whole show, but I guess I'll go with "We're Taking Over the Hall," "The Open Road," and "The Wild Wooders." "Messing About in a Boat" is an honorable mention. I could've picked almost anything, though.
---
Tom Sawyer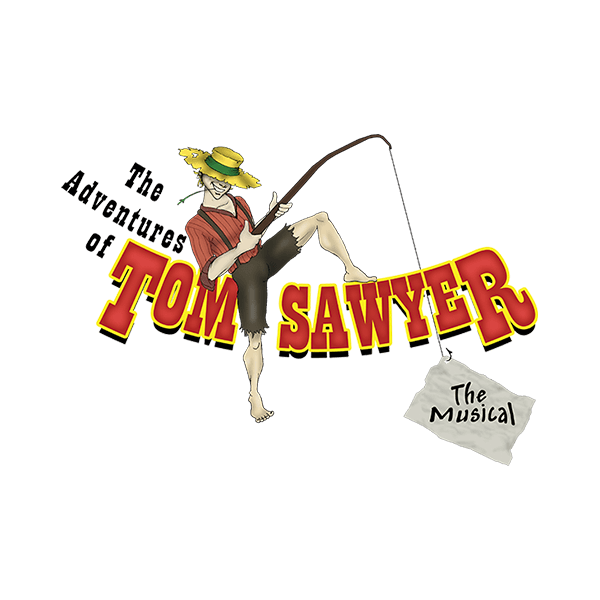 How I've experienced it: I'd never even heard of this musical until I saw it. My high school, which—as I've mentioned a few times before—put on bizarrely professional-caliber shows, staged it. I had a class with the guy who played Joe and heard him talk at length about rehearsing the part where he falls off the stage into the orchestra pit. Knowing about that in advance only made it slightly less alarming.
What's it about? It follows Mark Twain's original novel. When Tom and his friend Huck witness a group of gravediggers discussing a hidden treasure, it puts them in danger.
Why is it so good? It's just very spirited. Obviously there are issues with the show, just as there are with the book ("Injun Joe" is kinda racist), but the show has some fun songs. A lot of Tom Sawyer is about youthful hijinks, and youthful hijinks make for entertaining musical numbers.
My recommendation (if you can't see it live): This show isn't readily available anywhere that I know of. If you're interested in it, listening to the cast album is pretty much your only opportunity to do so. I looked on YouTube to try to find some clips, but the only remotely legit video I found is this performance of "To Hear You Say My Name" on the Rosie O'Donnell Show. Honestly, as a standard love song, that's it's probably the least entertaining number in the whole show, but it is what it is.
My favorite songs: "Angels Lost," "The Vow," and "It Just Ain't Me"
---
Tuck Everlasting
Which cast recordings have I heard, and which is my favorite? I'm pretty sure there's only one.
What's it about? From what I can tell from listening to the cast recording, it follows Natalie Babbitt's original pretty closely: a young girl runs into a family who accidentally became immortal by drinking enchanted water.
Are there any good YouTube-available clips? Surprisingly for a show that barely ran, yes. Here's "Good Girl Winnie Foster" and "The Wheel."
What's so good about it? Mostly, the music is catchy and fun. I'm a big fan of Andrew Keenan-Bolger (Newsies), I love Terrence Mann's voice (The Scarlet Pimpernel), and I saw Carolee Carmello onstage (in Hello, Dolly!) so their involvement predisposed me to like it. This is not one of my personal top-tier musicals, like it is for a lot of people. For myself, I like it but don't love it. The songs are generally upbeat and catchy and overall the show is much, much better than anything I would've expected from an adaptation of Tuck Everlasting (I did not care for the book)."
My favorite songs: "Partner and Crime" and "Good Girl Winnie Foster" are by far the best and most memorable. Since I have to pick three, I think I'll add "Hugo's First Case."
gif credit here