It's hard to believe that it's already October! 2021 is flying by, not necessarily in that when-you're-having-fun way, but flying nonetheless. The most important thing that happened this month is that this darling angel turned one!
That's right! Darcy, the world's sweetest puppy and this blog's mascot (she deserves better), had her first birthday! In November, we get to celebrate her adoption day.
With the most exciting news out of the way, let's move on to my literary recap.
Since I've written full reviews for all these books, instead of rehashing my thoughts I'm going to try something new: five-word reviews. If you're interested in my full thoughts, the full reviews are linked as always (unless they're not posted yet; some of the reviews are behind). We'll see how that goes. Here's what I read…
(or jump to what I watched)
Serviceable mystery, but mostly romance.
Queer AF but otherwise bland.
Platonic friends? Nope. Affairs only.
Promising but flawed fantasy debut.
Dune by Frank Herbert
Classic, but not my taste.
Totally worth the hype. Unputdownable.
White Teeth by Zadie Smith
Smart, surprising, funny… but slow.
---
Here's what I watched…
I was apparently in the mood to watch a bunch of campy musicals this month, because I watched a bunch of them. I'm still doing five-word reviews, but since in most cases I haven't written about these movies and shows at all elsewhere, I'm elaborating a little more after the fact.
Once Upon a Mattress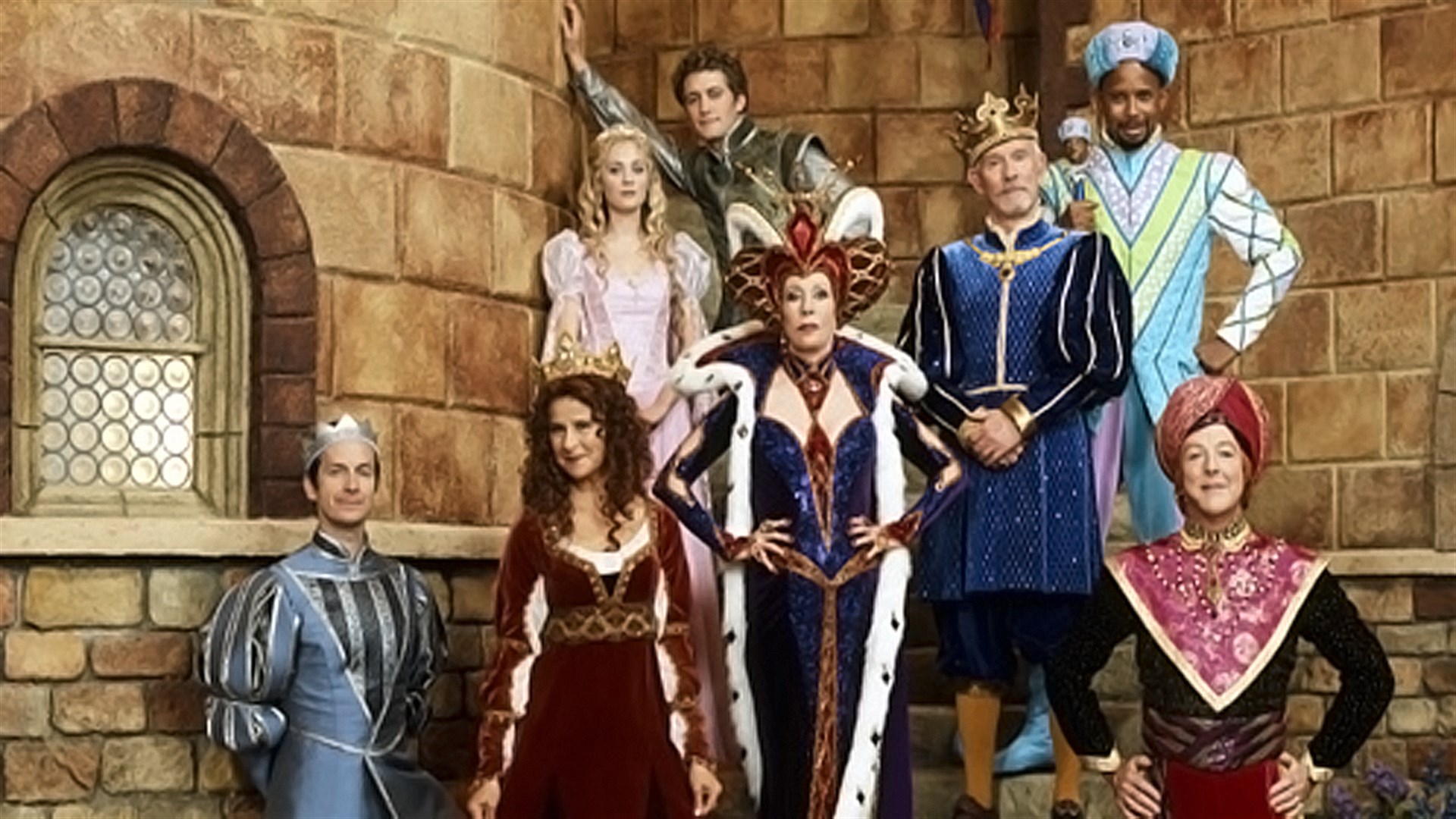 Will Schuester is in everything.
Okay, but seriously. How did I not know that both Zoey Deschanel and Matthew Morrison were in a musical together? I watched this because I read Kate in Waiting by Becky Albertalli, which is a novel about two theatre kids whose school puts on a production of Once Upon a Mattress. It's cute enough. It's not one I'm going to watch over and over again or anything, but I do love the part where Will Schuester says, with a totally straight face, "I can't cheat. I'm Sir Harry the Immaculate." The score is honestly a bit forgettable. A few weeks later and I'm not sure I could hum any of them. I thought that Carol Burnett was a bit much (and yes, I know her role is meant to be extra, but between this, her guest spot on Glee, and her version of Annie I think it's time to say that I simply don't like her brand of comedy), but I very much enjoyed Princess Winnifred and her romance with the sweetly bumbling Prince Dauntless. Mainly, I was surprised by the juxtaposition of this musical. The pregnancy outside wedlock seems pretty risqué when paired with the otherwise old-timey feeling of the show.
---
Cinderella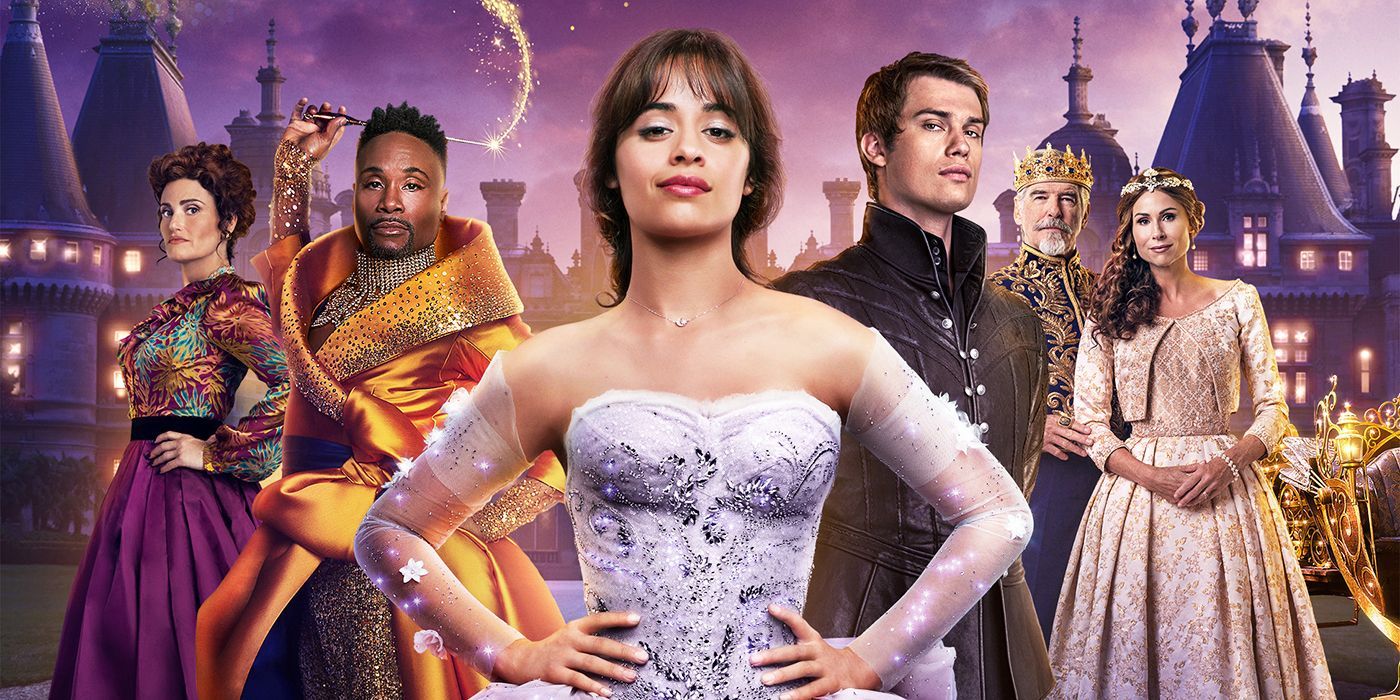 Elphaba singing "Material Girl?" Iconic.
I don't know that we actually needed another version of Cinderella. The one with Brandy and Whitney Houston is already perfect. However, this one is a lot of fun, and I'll watch any musical (and especially one that has Idina Menzel in it). I applaud this movie for just going for it. Like, it is so over-the-top and camp that even I was bewildered by it. The opening number is "Rhythm Nation" for some reason. It doesn't really make sense, but it's a good song and performance is dedicated. Some of the songs work better than others. The aforementioned "Material Girl" sequence is beautiful, and there's a ballroom scene with a mashup of "What a Man" and "Seven Nation Army" that's great. The musical nerd in me did wonder why Fra Fee never got anything to do. I kept expecting him to have a solo or marry a stepsister or something, but he never did. Also, I've decided that Pierce Brosnan should only be allowed to act in silly musicals. Can he sing well? No, not really. Is he amazing anyway? Yes. He is this movie's MVP.
I thought some of the comedy was a little iffy. I like James Corden and have done since I saw him in Doctor Who, but his comedic bits in musicals just don't work. He was good in Into the Woods. In Cats? Not so much. Here? Not so much. The other mice worked pretty well, though; I liked Romesh. The prince's Princess-Di-inspired sister was also a welcome addition. Most of the worked. I laughed. I tapped my foot. I'm already planning to rewatch this with my mom because I didn't realize she wanted to see it.
---
Julie and the Phantoms

Love that himbo ghost band.
You can only see so many "renew jatp" comments on Netflix's social media before you check out Julie and the Phantoms. It's cheesy as heck. I started it with my mom and sister, but they both dropped off relatively quickly and I finished it by myself. That makes me sad, because while I started off watching it kind of ironically–the inciting incident is a group of teenagers comedically dying after eating some bad hot dogs–by the end I legitimately loved it. Unsurprisingly considering the director (Kenny Ortega), it has a very cheesy HSM vibe, but in my book that's a good thing. The songs aren't necessarily write-home-about bangers, but the lead actress (Madison Reyes) is such an incredible singer it ends up not mattering. The main thing about it, though, is that it's fun. The boys are just so stupid in the best way, and there are few things I like more than close, wholesome friendships. This show is full of them, but it also balances just enough poignant storylines–Julie's grief for her mother, the band's regret about dying before achieving their dreams, Luke's relationship with his parents–that it feels like more than a campy farce. There's also something almost ineffably powerful about watching what is essentially a kids' show with gay characters. I didn't have that when I was actually a kid. There still aren't many queer characters in media aimed towards the younger crowd, which is depressing, so it makes my day when I find some. When it's as much fun as Julie and the Phantoms is, that's even better. So, yeah. Netflix, renew jatp.
---
The Descendants
So bad it's somehow good.
So who looked at Dove Cameron and thought, "Yes, this girl is believably rotten to the core?" I just want to talk. Seriously, though. I watched this after Julie and the Phantoms because I wanted more like that, and I'm slightly bewildered. Like, The Descendants is a huge franchise. There are a bunch of movies. There are novel tie-ins. I'm pretty sure I've seen costumes and dolls, too. And it seemed wrong that there could be a musical franchise that I didn't know about. I'm not sure how I felt about it after the first movie. On one hand, Kristin Chenoweth is having so much fun that it's impossible not to have a blast with her. When she's not onscreen chewing the scenery, though, it's hard not to scratch your head at some things that are frankly bewildering, like…
Why are the king and queen abdicating for their sixteen-year-old son? He's still in school, and they're both clearly still competent and capable of ruling.
Why is Jafar's son basically Aladdin? On that note, why did Jafar turn into a petty thief?
Why doesn't Ben care that he's been love potioned? That would be a deal breaker for me.
How is Carlos a tech genius five minutes after moving somewhere with technology? And why does the Isle of the Lost subsequently have tech after the first movie stated that they didn't?
Is it really wise to leave powerful magical items lying around? Yeah, they're in the museum, but teens break into there a lot in this franchise, and apparently magic is very quick and easy to pick up. They probably should have made that a bit more secure.
Why is the son of Jafar Asian/Native American instead of Arab? The actor is great, but it's not like the character is deeply Jafar-esque. Jay could have been the son of Shan Yu or Kocoum, or they could have race-lifted another previously white or race-ambiguous villain like they did with Cruella and Ursula.
Why do Belle and the Beast act like Maleficent is the scariest villain when presumably they'd have the biggest axe to grind with Gaston? Like, did they just not want to make Ben Aurora's son? Even in Descendants 3, with Aurora's daughter as the baddie, they didn't really capitalize on this existing rivalry?
Why are Mal and Ben the only ones with two parents?
How did Belle and the Beast really think the Isle of the Lost was a good idea? Have they never heard of jail? It's like they wanted to create a whole civilization of villains. Did they not think the number of villains would increase exponentially when they populated a whole island with literally zero positive role models?
Still, The Descendants was enjoyable enough that I watched the next two and they are better.*
*except for Carlos and Mal's hair in Descendants 2. Someone did them dirty.
Why? More songs. The more people sing, the more otherwise nonsensical things make sense. The songs are also mostly better, even though sadly Kristin Chenoweth is no longer on hand to sing them. I do wish that they hadn't used so much autotune, though. It made Evie and Mal's voice virtually indistinguishable. Also, as is often the case with sequels, the additional characters added something that was missing before.
The pirate crew is lots of fun. Uma is the badass and ultimately reformed second gen villain girl that Mal only wishes she could be. Her intro song is arguably the best tune in the franchise, and she and her pirate cohorts Harry and Gil are the best villainous-parent-with-a-spin characters. The others are either complete reversals of their parent (Cruella hates dogs but Carlos loves them!) or carbon copies (Dr. Facilier is a voodoo practitioner with friends on the other side and so is Celia). Uma also has a depth as a villain that Maleficent and Audrey lack. The former is in it for the lols and the latter is the classic woman scorned, which isn't the best trope. She has the best special effects, too. Everything else looks really dated.
Plus, the guys bring the queer energy I was hoping for from this franchise the whole time. Harry has chaotic bisexual vibes from the moment he steps on screen, and you can't convince me that Gil isn't Jay's love interest in Descendants 3.
Also, I love Evie. Evie is great and should be the main character. I spent the whole last movie hoping that they'd kick Mal to the curb and crown Evie. I mean, Mal can still marry Ben, but if one of the villains is going to actually rule it should definitely be Evie. You know, the one who cares about other people and doesn't miss being evil and cares more about the greater good than petty squabbles.
Jay's physicality is absolutely amazing to watch. The way he flips around and moves is just incredible. The more I work out the more I'm impressed by dancers. I do my best, but I look like a crotchety invalid compared to people like Booboo Stewart.
---
Everybody's Talking About Jamie
Beautifully queer and heartbreakingly affirming.
I actually did write a review of this one! I went into this expecting it to be a fun but forgettable poor-man's Kinky Boots, but I was actually blown away by how emotional and evocative it is. I rarely cry, but "Wall in My Head" got me.
I didn't only watch musicals, though.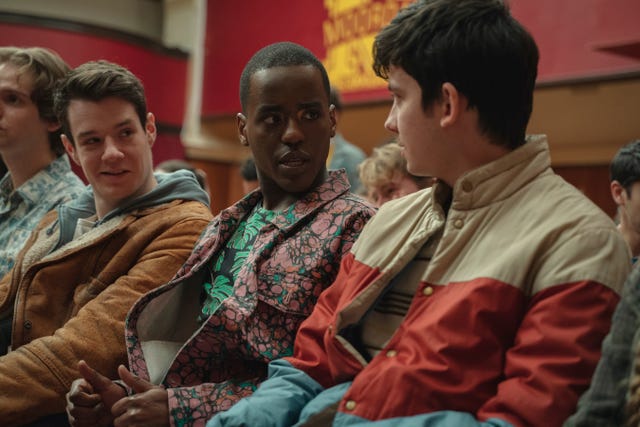 Diverse characters create rich storylines!
This is such a good show. The character arcs are so good. My sister and I watched this together long distance, and we legit texted back and forth for an hour after each episode. Admittedly we're both English major nerds who spend way too much time analyzing fiction, but that tells you just how much Sex Education has going on that we could combination analyze and fangirl for so long. This has always been a good show, but I think this may be the best season yet, even if Isaac and Steve deserve so much better and I wish Ola had a bit more screentime (I love Ola). Every character has such well-developed arcs, and the messy way they're all allowed to grow up and figure themselves out is wonderful. Because the characters are so diverse both in identity and experience, Sex Education is able to tell dozens of different, rich stories that are both true to life and unlike anything we normally see on TV. The way that it tackles hard subject matter without losing its humor is nothing short of masterful. Even if you haven't seen Sex Education, you probably know about its groundbreaking asexual representation and deft, sensitive handling of main character Aimee's sexual assault. It's impressive that the show manages to be both so culturally relevant and socially significant while still being an immensely engrossing binge. I'm scarred for life by the France bus scene, though. I have never cringed so much for so long.
I'm currently working on an "I Care Too Much About Fictional Relationships" essay for Sex Education because there is so much going on in it, and that should be posted in a few weeks. I think one could easily write a lengthy essay about anyone on the show because it encompasses such a wide cross section of society and touches on so many important subjects in ways that are relevant, educational, and entertaining.
---
The awards are well deserved.
What is there to say about Ted Lasso that hasn't already been said? It's just so funny and wholesome. So much comedy is mean-spirited that it's refreshingly to find a show that relies almost entirely on good-natured humor. As long as the writers don't set Ted and Rebecca up romantically, I'm totally happy. (But I would love some more time with the whole team, because those guys are hilarious and sweetly dumbass and don't get enough screentime as a collective unit)