Like the rest of the world, I've been very obsessed with Stranger Things lately. I've been very obsessed with Stranger Things for a while. I'm a bandwagon fan. When I see everyone screaming about something online I think what is this thing? Why am I not screaming about the thing? I was a little late to get onboard because this is a scary show, but my sister (who is more of a coward than I am, which is saying something) started watching it and said it was really good, so I jumped on the bandwagon.
It's a really great show, and that's not just the nostalgia talking because I don't have any 80s nostalgia; I was born in the 90s and (unpopular opinion incoming) I haven't seen or don't like a lot of 80s movies. Like, I've never liked Ghostbusters or ET and I've never seen Goonies or any of the many 80s horror films Stranger Things took inspiration from. Somehow despite not particularly liking the genre, generally being annoyed by fictional children, and not having any major pop culture nostalgia I still got quickly and totally immersed in Stranger Things, and the show has kept its hold on me for the past six years even through the inexplicably unpopular season three (season three has Robin! How is it unpopular?) And even through season four's sharp turn into horror.
I thought Stranger Things 1 was horror. I was wrong, because that was absolutely nothing compared to what we see in Stranger Things 4. There are some gross and frightening moments in the early run of the show—Will with that slug attached to him in the Upside Down was creepy as heck, and Bob's death was traumatic—but Chrissy's season four death took it up a lot of notches. During that scene I specifically thought man, if season one had started out like this I would not still be watching. Because that scene is terrifying and disgusting, and those effects don't get any easier to watch even as they keep getting recapped or repeated with other characters. But I was already so deeply invested in the substantive Stranger Things cast that I was willing to keep watching even as the content of the show got scarier and scarier until it was far beyond what I'm usually comfortable watching. Once I got past the horrifying horror of it, though, I found that I enjoyed this season as much as the ones who came before it. I'm not necessarily part of the crowd who is calling this the best season of Stranger Things or the season that saved Stranger Things because I like all the seasons and don't think the show needed saving, but it is definitely very good and because I like blabbing about the stories I find very good, I'm going to break it down, and because I first and foremost love characters, I'm going to bring back my old school method and break it down character by character.
I had originally planned to do a straightforward review like I did for The Umbrella Academy, but because the show was long and spread out, I had a lot of time to think about it and discuss it with my equally analytical, if less nerdy, sister. As I was writing this it turned out to be less a standard review and more a series of mini character-focused essay akin to my I care too much about fictional characters series, so that's what it is. The short version of the review is: I really liked it and I'm really looking forward to season five.
The long version is… a lot longer. When I realized my thoughts were nearly 10k words I decided to split them up into more manageable chunks. If you follow me, prepare to get spammed with a lot of Stranger Things content.
i care too much about fictional characters
---
Eleven/Jane Hopper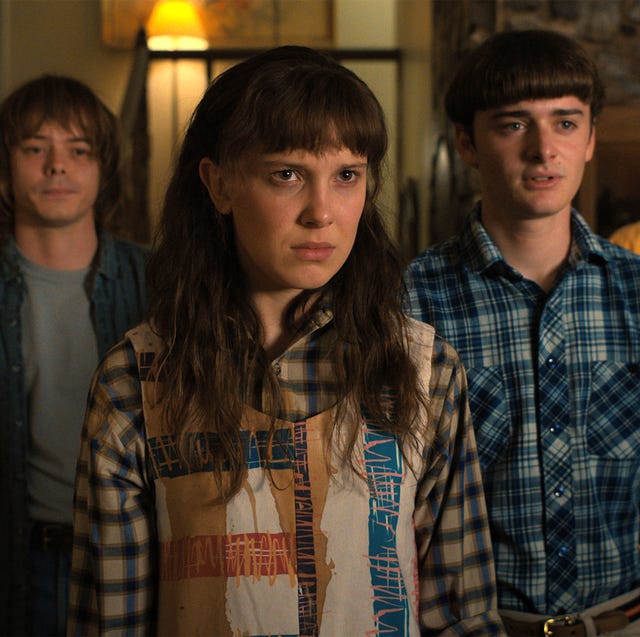 Of course we have to start with Eleven. Was there any question of that?
Eleven is arguably the main character of Stranger Things, and she's certainly one of the most recognizable. Everyone and their mother dressed up as Eggo Eleven back when the show first aired, and she has continued to be THE character for the show. Most legitimate fan theories center around her, most entertainment sites use her image when writing about the show, and actress Millie Bobby Brown's name almost always gets thrown around for award nominations. So I kind of have to start with her, even though she's probably the least interesting character in season four. You're probably thinking, but what about that time she piggybacked from a pizza dough freezer? You might be thinking, but wasn't it sad when everyone was bullying her and then she absolutely wrecked Angela? I mean, sure. I guess. She has a few good moments, but on the whole she's season four is not El's season.