It's been kind of a tough month personally, but I read some absolutely fantastic books and watched some charming, wholesome TV/movies. To shake things up a little I decided to swap the order of this recap and put my viewing highlights first and books second because all the books will eventually get their own individual posts but the movies and TV won't necessarily.
Here's what I watched…
Abbott Elementary
My sister recommended Abbott Elementary to me and I can't believe I hadn't either seen it before or heard more about it, because it is a hilarious, warm-hearted show that feels like a spiritual successor to Parks and Recreation. It follows a group of passionate teachers lead by a hysterically funny but woefully incompetent principal who teach at an underfunded elementary school. Each episode sees them them try to do their best by their kids by whatever means necessary, whether it be by leading an after-school step class or using hush-hush connections or by participating in a dangerous viral trend to suck the cool out of it, and it hits that all-too-rare combination of genuinely funny comedy that touches on real subjects but comes from a place of love rather than taking shots at people. Like any good sitcom, it balances small, arguably unimportant plotlines (Melissa and Jacob play poker) with more blatantly character-driven and important ones (Janine, whose mother was never there for her, tries desperately to get in contact with a struggling student's hard-to-reach mother, and suffers jealousy when work-mom Barbara's real daughter pops by for a visit). Somehow every character, from the shallow and conceited Ava to neurotic but secretly soft-hearted Gregory, feels fully developed and lovable. It's hard to pick a favorite because they're all so funny and because their slightly different styles of humor bounce off each other well, and the show does an admirable job of mixing everyone up into different combinations so that no pairing ever feels stale or merely informed. Perhaps most importantly, the show manages to be largely lighthearted and happy without losing sight of its central premise: because they love their kids and want to do right by them, these teachers are working in a profession that pays them too little and expects too much from them. Watching it, you'll laugh but you'll also want to do right by your teachers. Abbot Elementary also—and this can't be understated—knows how to balance the kids. There's enough of them that it feels like a real elementary school, but it doesn't ever focus on them at the expense of the teachers who are the heart of the show. Let's face it: fictional kids can be very annoying, but Abbott Elementary managed to cast only cute ones and to keep them out of the direct spotlight enough that they don't put off the people who don't want to watch a kids' show.
Basically, this show is hilarious and you should watch it and I'm very glad that it got renewed for season two. That was well-deserved. We need more feel-good sitcoms!
---
The Descendants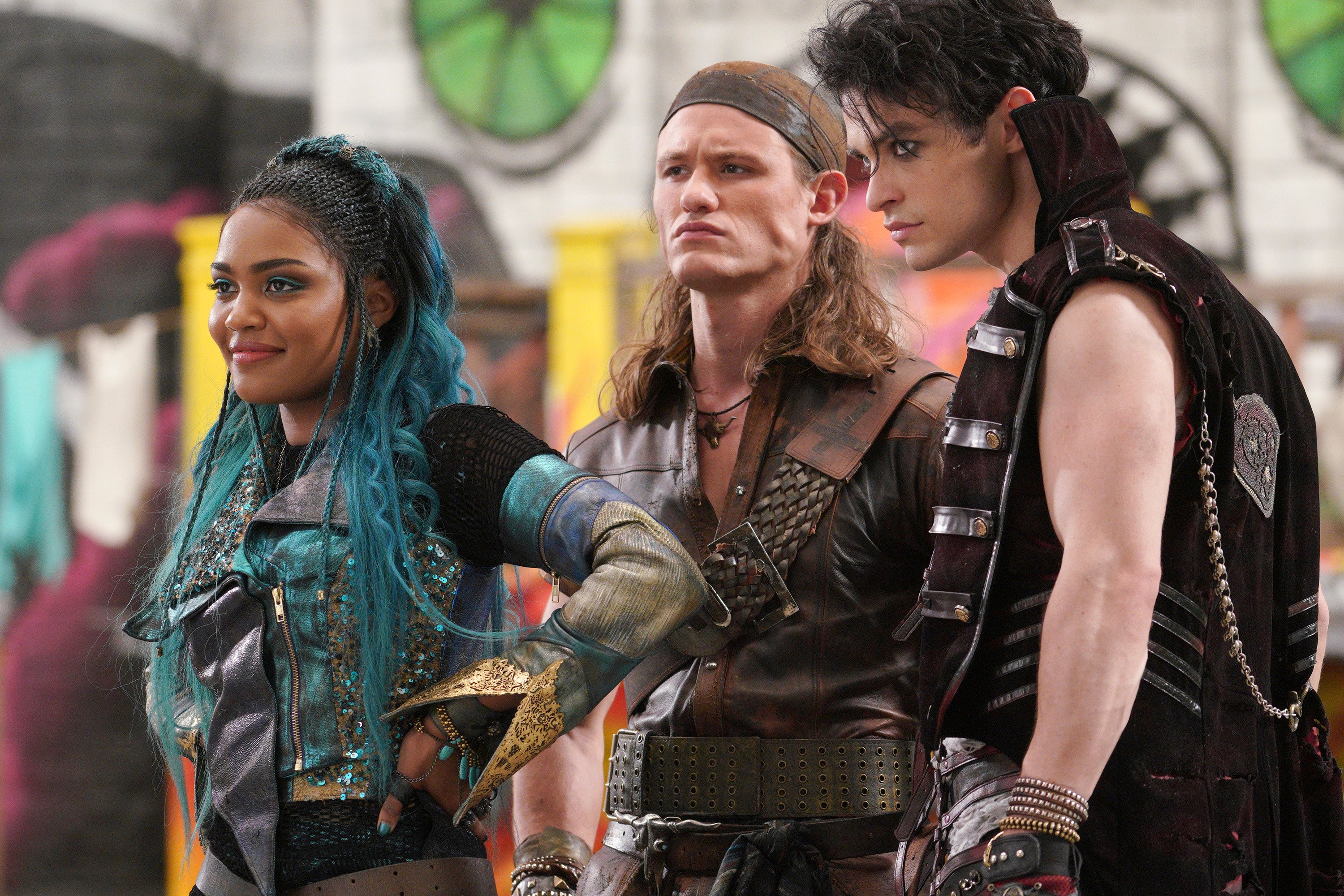 Yes, I watched these again. If there's anything I love, it's a catchy, campy musical. I really don't know how I missed these movies when they first came out because 1) they're exactly my jam 2) Kenny Ortega is the best and 3) I LOVE High School Musical. One night my parents and I were looking for something to watch and I was like, "Hey, do you want to try this kids' movie that I discovered last year in my campiest phase? You might hate it." But they watched it and, honestly, they loved it too. Even my dad! It's hard to get him to watch anything all the way through with me because we have very different taste. Mom and I invited him to be nice, expecting him to turn us down, but he watched all three movies! They're just so much fun. No, the politics don't really make sense and yes, there's arguably a little too much autotune, but other than that, what more can you ask for?
There are ridiculous allusions to Disney movies. There are delightfully cheesy big group dance numbers. There are some legitimately sweet romances, and a big emphasis on platonic friendship and personal responsibility (which isn't always something you get in a romance!). There's a variety of different musical sounds, from emotional duets to upbeat group numbers to power ballads. There are chaotic pirates (you know how much I love my chaotic pirates) and amazingly over-the-top costumes and hair. Last time I watched these I ended up listening to the songs on repeat, and I am literally listening to "Do What You Gotta Do" as I'm editing this. They're just a fun time, and I'm side-eyeing old me who said they were "so bad they're good." They're so good they're good. You've just gotta be into a silly, singy good time.
I love all three movies, but the second one is definitely the best one. It has all the best songs! "Chillin' Like a Villain," "What's My Name?", "Ways to Be Wicked," "Space Between"! There's not a bad song in any of them (although I'll admit that Ben's rap of "Be Our Guest" does give me major secondhand embarrassment). Also the presence of Kristin Chenoweth gives any musical franchise a major boost, even if she only actually sings one song before getting turned into a lizard.
Are these movies made for kids? Yeah. Does that stop adult-me from unironically loving them? Definitely not.
---
Only Murders in the Building
Season two can make or break a TV show. I loved season one of Only Murders in the Building, and I was excited for season two. It's such a funny, clever, and warmhearted comedy-mystery that both appeals to my current sensibilities and my nostalgia. The Three Amigos was one of my favorite childhood movies, so seeing Steve Martin and Martin Short team up again after however many years was charming to me. Do actors have to be friends to work together? Obviously not, but it's just always cute when you find out that people who play buddies onscreen are buddies offscreen. Also, just lifelong buddies. Lifelong buddies are the best. Beezus and Ramona, which stars Selena Gomez, was also a major childhood favorite. I loved season one, but knew that sophomore seasons are often shaky. I shouldn't have worried. This one wasn't!